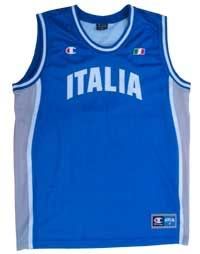 Italians Dressing in the NBA

Before Andrea Bargnani was officially taken as the first pick in the 2006 NBA Draft, only a few Italian players had ever made it to the NBA. Despite the growing popularity of basketball as a global phenomenon, Italy has rarely made hoop headlines. Despite a 12th place finish in the 2006 FIBA World Championships, many of the Italian players impressed both spectators and scouts alike.
Bargnani is going through his growing ups and downs with the Raptors who are, as of press time, holding down the second spot in the Atlantic. Bargnani is averaging a respectable 10 points, and less impressively only 3.4 boards his Italian predecessors weren't as successful. Here is a list of Italians in the NBA before they were being imported into the NBA with the first pick in the draft.
Hank Biasatti / Toronto Huskies 1946-1947

Born in Beano, Italy, Henry Arcado Biasatti stood 5-feet-11 inches tall and played his college ball at Long Island University in Brooklyn. He was taken by the Boston Celtics in the 1947 BAA draft but played in only 6 games in one season for the Toronto Huskies. Biasatti also went on to play for the Philadelphia Athletics in 1949 and batted 0.83 in 24 at-bats. He died in 1996 in Dearborn, Michigan.

Vincenzo Esposito / Toronto Raptors 1995-1996
Born in Caserta, Campania, Italy in 1969, Esposito played in 30 games for the Raptors in his only season in the NBA. Isaih Thomas made him the first player ever signed to the then brand-new Toronto Raptors. He was already 27 years old and averaged just below four points and nearly one assist for the Raptors who finished 21-61 in their first season. Since leaving the league, Esposito has been a mainstay on mostly Italian pro-teams.
Stefano Rusconi / Phoenix Suns 1995-1996

Rusconi, a 6'9 power forward, also made his NBA debut at 27-years-old. Drafted by the Cavs in the 2nd round of the 1990 draft, he didn't suite up in the league until 1995-1996 with the Suns. In seven games, Rusconi averaged an anorexic 1.1 points-per-game and nearly averaged a lone rebound. Though he was never thought of to be a great NBA prospect he was an effective center in Europe with the Bennetton team that featured Toni Kukoc.