Still Searching for the Promised Land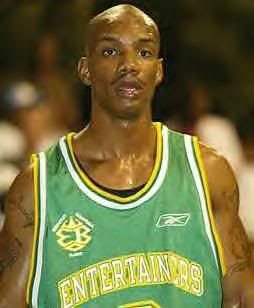 Moses "Zach" Marbury
Not selected out of the University of Rhode Island via-Brooklyn's Lincoln High School and a stop Connecticut's Milford Academy, Moses Zachary Marbury has never seen a minute of NBA time. Since leaving school after his junior year for the 2001 draft, the closest he's come is running with the Knicks summer league team team shortly after his older brother, Stephon's, arrival as the big teams starting point guard. He is now best known for his play in New York's summer leagues and street tournaments with Fat Joe's Terror Squad Team, but played in the D-League (Columbus RiverDragons), ABA (Phoenix Eclipse, Philadelphia Colonials) and the USBL, where he was coached by former Knicks shooter John Starks in Westchester.
Though it's only honest to say that Zach has been greatly, if not totally, overshadowed by his brother's All-Star success in the NBA, he did have his moments in college. He was second team All Atlantic 10 as a sophomore after being declared ineligible by the NCAA. He averaged 16.9 points as junior and scored a career high 38, including 17 of 20 from the free throw line, in a win over La Salle. While he showed promise and certainly possessed the ability to score, the younger Marbury was never really considered a legit pro prospect.
Lately, Zach has been largely off the radar. With the exception of showing up to run in a few ABA games and spending short seasons in Rucker Park he hadn't been heard of. You'd figure a player some five years removed from college ball and with limited pro experience he'd wouldn't even be a though in any minor league draft. However, Zach might have a better chance at getting to the NBA now more than ever. On November 2, 2006 the Albuquerque Thunderbirds selected him with the 12th Pick in the 9th Round of the D-League draft.