There and Back:
Dajuan Wagner's Return Bought Out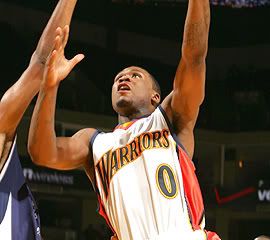 It was just a few months ago that Ben Osborne, then Senior Editor of King magazine, told me that my pitch was in fact too late and that he had a writer tracking Wagner for a larger feature for a few months. The piece, published in this their DEC'06/JAN'07 issue of King, is a three page spread about the Wagner's career, illness and recovery, and his return to the NBA with the Golden State Warrior.
A good deal has changed since then, both for the better and for the worse. On the good side of things, Ben Osborne, a longtime member of the SLAM family, has return to that magazine as it's editor-in-chief. If you know his work and his ideas, you know that SLAM is going to be a little different this time out. Ryan Jones brought a great deal of NBA coverage to the magazine that was unlike any other outlets viewpoint. That says a lot, considering, coming from my hip-hop journalism background, I feel like NBA basketball players are so much more protected than any other people in the public eye. Mr.Osborne is sure to lay down some really compelling stories of the basketball world at-large, which I think is his specialty. But I'm dragging….
The bad has to be Wagner's release from the Warriors less than a month into the season. The team chose to buyout the remained of the Camden High School legends contract and move on. Wagner, unlike Jay Williams from Duke who didn't make the Nets roster after returning from injuries sustained in a motorcycle accident, did play in one game for the Warriors and racked 4 points and an assist in seven minutes. However it was uncertain how his body would hold up throughout the year. Rumors around the web said that the Sonics were interested, but it's hard to tell what a guy who has returned to the league after overcoming injury and surgery will do in the long run.
It's clear though, that the NBA likes him and that will make him stick somewhere if he ever returns to normal. ESPN.com noted that he fell out with Don Nelson, but it was a bad enough situation. The Warriors didn't exactly have room for him anyway. He was competing for time with Baron Davis, Jason Richardson, Monta Ellis and Anthony Roberson, none of whom had missed any time, definitely not most of the last two seasons recovering from getting their colon removed.
It would be in the league's best interest if he spent a year in the D-League and work it all out. It would keep him close to home and maybe afford the league a big name to help attract fans. He played well in the limited time he was given to play. Two-year-contract aside it was unclear how long Wagner was really going to stay with Golden State. Even if he doesn't make it back to the NBA this season or next, I think if his goal was to prove he could still play pro ball, then he certainly did.
Wagner is the same kid who grew up the son of a former pro ball player. Wagner is, colon or no colon, the same kid who scored 100 points in a high school game. He is the same Dajuan Wager who kids in the park huddling around his feature spread in SLAM would claim to be related to. The same kid who played one year at the University of Memphis and was then snatched-up early by the lowly Cavs with the 6th pick in the draft. He's still the same Dajuan Wagner who averaged a solid 13.4 points in his first and only year in the league. He got sick and now he's better, in fact, he made it back to the NBA. Don't be surprised if he shows up again.