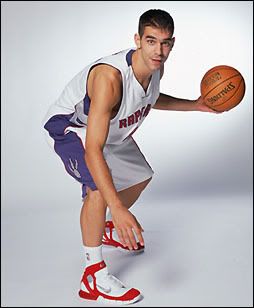 "SPANISH FLY: This Foreign Kid Can Really Play! "
As a Knicks' fan, working out possible trades in your head is much more exciting than watching them trail by ten. While I can't think of anyone the Toronto Raptors would be so interested in acquiring in exchange (maybe Frye and Collins?), Jose Calderon somehow sits atop of my recent list of favorite players. When I spoke to Raptors Assistant Jim Todd this summer for ProBasketballNews.com, which is now fed from Better Basketball Online, and there was a sense that Toronto was really high on Calderon. In his second season in the league we're beginning to see his potential blossom.
In the FIBA World Championship Calderon stepped up and helped Spain take the title with 7.2 ppg, 3.2 apg and less than one assist per game. When the NBA resumed, Calderon played big minutes in the preseason. His best game probably being the 19 PT, 7 AST game he had against the Celtics. He got to show his natural floor generalship, ever-improving passing skills and surprisingly good rebounding tools. He's a natural point guard that can score and moves the ball well. In 5 games this year he's at 8.2 ppg, 3.2 apg in just under 16 minutes. While he needs to keep a handle on his turnovers his shooting ability shouldn't be slept on. He shot 50% from three in the preseason and has shot 2-5 from behind the arch in thus far this season.
WHO ELSE WOULD I WANT IF I COULD GET THE KNICKS A BACK-UP POINT GUARD?
-Earl Watson , Seattle Supersonics
Watson is someone the Knicks could actually go after and probably not have to give up too much to get. His 8.9 ppg and 4 assists last year are solid numbers for a real point guard.
-Rafer Alston , Houston Rockets
"Skip-to-My-Lou's" 12 ppg and 6.7 apg should be something the Knicks should go after. He's a NYC guy and a once considered a problem, but he's a big a basketball star as any on the roster right now.