NBA ALL-SUBSTANCE ABUSE SQUAD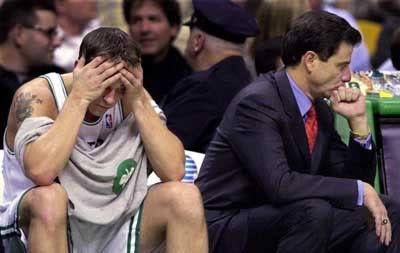 C – Chris Washburn
Washburn was banned from the NBA for life in June 1989 after he flunked three drug tests in asmany years. Washburn was selected by the Golden State Warriors with the 3rd overall pick of the 1986 NBA Draft. It seemed that he looked like the next Karl Malone, at least in physical appearance, but his moral fiber and work ethic did not match.

He played 72 games over two seasons with the Warriors and part of another with Atlanta Hawks, averaging 3.1 points and 2.4 rebounds per game. He is widely considered to be one of the biggest busts in NBA draft history. Sports Illustrated named him the second-biggest NBA draft bust in 2005.

He was last known to be in the mortgage business in Dallas.

F - Lloyd Daniels
Lloyd "Swee'Pea" Daniels The 6'7" guard never played in college, nor was he ever drafted by an NBA team, but he did manage to play in 5 NBA seasons for 6 NBA teams. He played for the San Antonio Spurs, Philadelphia 76ers, Los Angeles Lakers, Sacramento Kings, New Jersey Nets and Toronto Raptors.
In his career, Daniels played in 200 NBA games and scored a total of 1,411 points. Prior to his NBA career, he played in the GBA, the CBA, the USBL[1], and also in Europe.
Daniels is considered to be a New York City basketball playground legend. His problems with drugs overshadowed a tremendous talent. The anti-Lebron James, Daniels was the best high school player in the country who never went to school. His drug problems followed him through several different high schools and colleges.
On May 11, 1989, Daniels was shot three times in the chest and survived. [2] He still has a bullet lodged in his right shoulder.
In October, 2005, Lloyd tried to revive his career by trying out with the Strong Island Sound of the American Basketball Association.

F – Richard Dumas
Aside from displaying tons of playing poetential, Dumas' NBA career was plagued by substance abuse.
Dumas, a 6'8" small forward from Oklahoma State University, was selected with the 46th pick of the 1991 NBA Draft by the Phoenix Suns but was suspended for what would have been his first season by the NBA for violation of its drug policies.
Dumas began his first year in the bigs 19 games into the Suns' stellar 1992-93 NBA season, averaging 15.8 points and 4.6 rebounds per game as he helped the club win league-best 62 games and an make an apperance in the NBA Finals.
Although Dumas was banned the entire next season by the NBA for further drug violations, he returned in 1995 to the Phoenix Suns, averaging just 5.5 points in 15 games in his final season with that team. Under the influence of former troubled player and then-Philadelphia 76ers head coach John Lucas, Dumas concluded his brief NBA career with a season with the 76ers, averaging 6.2 points in 39 games.
He then continued his professional career overseas, as well as for the Westchester Wildfire of the United States Basketball League.
Richard Dumas retired from basketball in 2003.

G – Chris Herren *above
Chris Herren (born September 27, 1975 in Fall River, Massachusetts) is a professional basketball player who was selected by the Denver Nuggets in the 2nd round (33rd overall) of the 1999 NBA Draft. A 6'2" guard, Herren played for the Nuggets and the Boston Celtics during his NBA career. He played collegiately at Fresno State University under legendary coach Jerry Tarkanian.
Once the subject of the high school basketball book "Fall River Dreams," and Sports Illustrated magazine cover boy, Herren entered a rehab for abusing cocaine and other drugs during his junior season at Fresno
Herren's substance abuse followed him across the country. He once told legendary NYC high school coach Jack Curran that Kareem Reid, former Arkansas guard, wasn't passing him the ball during the McDonald's All-American game because he was white.
In December 2004, Herren rammed his car into a Dunkin' Donuts in Portsmouth, Rhode Island and was found unconscious leaning over his steering wheel. He was arrested and charged for possession of heroin and driving under the influence of drugs with a revoked drivers license.

G – Micheal Ray Richardson
Michael Ray Richardson's career is one of the more "turn-around" stories of all the sorry substance abuse cases where spoiled atheles messed-up. The 4th pick in the 1978 NBA draft Richardson was an offensive threat and fashy scorer who spent the better part of eight seasons in the NBA with the Knicks, Warriors and the Nets. His problems with cocaine and other substances landed him out of the league by the mid-80's and later he would personally banish himself to Europe for a 14-year run in which, he said, he kept himself away from bad influences and mostly likely the substances that were easily accessable to him in the states. He often criticized the NBA for never punishing longtime Warriors star Chris Mullin for the alcohol habit he carried through his active playing career before seaking treatment. In 2000, TNT television ran a documentary Whatever Happened to Micheal Ray?, and in 2004 he was named the Head Coach of the Albany Patroons of the CBA where, as a player, he won the '87-'88 CBA championship.

G/F - Chris Mullin
Like Herren, Mullin was a Tough Irish Bastard (or T.I.B.) and probably was born with the naturall ability to drink an entire case of beer and play in extremely competitive games. Mullin, who reportedly received a sports car when his Power Memorial H.S. closed on him in the 10th grade, played nearly 1,000 games over 16 seasons and averaged just-over 18 points and was a 5-time All Star. As a likeable white-guy, Mullin's alcoholism was largely overlooked and, in fact, it was only be the encouragement of his then-coach with in Golden State, Don Nelson.

F – Shawn Kemp
One of the sadest stories concerning substance abuse in the NBA is Shawn Kemp. As a star forward for the Seattle Supersonics he brought his team to the finals in 1995 only to loose to the Houston Rockets. Coming out of Trinity Valley Community College, where he transferred after pawning a teammates jewlery at the University of Kentucky and was dissmissed from the team, the 19-year-old camp became almost an instant superstar. A five-time NBA All Star, Kemp began fading into oblivion after being traded to the Portland Trailblazers in 2000. His play quickly began to decline and before long his first season in Oregon ended with Kemp entering a rehab program. At the time many Kemp was so dependent on marijuana that players began finging joints in the locker room. It is rumored that his teammates thought that the 6'10 Kemp would die on the court. After two rough years in Portland he was shipped to the Orlando Magic before he left the league in 2003.

SHAWN KEMP RECENT WRAP SHEET:

On April 4th, 2005 Shawn Kemp was arrested in Shoreline, Washington for an investigation of drug possession. Kemp along with another man were found with cocaine, about 60 grams of marijuana and a semiautomatic pistol, according to the King County Sheriff's Office. On April 29 Kemp was formally charged with drug possession and pleaded guilty.[2] Kemp was again arrested for misdemeanor marijuana posession in Houston, Texas on July 21, 2006. [3]
[edit]

NBA comeback attempts:


In April of the 2005-06 NBA season, Kemp's NBA comeback chances looked promising [4]. The eventual Western Conference champion Dallas Mavericks considered adding Kemp to their roster in time for the NBA playoffs. Mavs' head coach Avery Johnson scheduled a personal workout to take place in Houston, where Kemp trained for several months. However, Kemp failed to appear because of undisclosed reasons. The two parties tried to re-schedule a workout but the NBA refused to grant Dallas an injury exception (for a 16th player). Ultimately Kemp did not get a second chance to join the Mavs that season. [5]
In June 2006, the Denver Post reported that Kemp had slimmed down to the playing weight of his all-star days and was determined to join an NBA team, possibly the Denver Nuggets, and finish his career "the right way." [6] The Nuggets ultimately turned their attention away from Kemp, signing power forward Reggie Evans. Kemp drew some interest from the Chicago Bulls in September 2006, but missed his scheduled workout to visit an ailing relative instead.[7]
Despite his most recent legal setback in July 2006, Kemp remains committed to his NBA comeback. Facing the media just days after his arrest, Kemp revealed his weight is down to 257 pounds, its lowest since 1998. [8] However, it remains to be seen if the former superstar can recapture some of his past form and secure a position on an NBA roster in time for the 2006-07 season.